Vaccines are having a major impact as economies reopen. For all of us, especially for someone in my position as a career coach, it's worth looking at what the world of work will look like as we move ahead.
Whether you're a job seeker, an employee, or an employer, what lies ahead?
No one, of course, has a definitive answer to that question but I'm paying attention to workplace developments in a variety of industries and locations every day. Some trends are starting to emerge.
A large majority of us, some 78 percent, want to go back to the workplace "at least partially if not full time," according to recent Randstad Workmonitor research, for instance.
For employers, that's going to pose an interesting question about what "going back" really means, and it's sure to vary from job to job and from employer to employer. Many employers have long been skeptical about working from home.
My sense is that the skepticism persists – despite what appears to be some convincing evidence that productivity stayed constant, or even improved, when working from home was a mandated necessity and offices were off-limits during the pandemic.
Employees generally don't share that skepticism, and I expect to see a divide between what they want and what employers require.
But the extent of that divide may well depend on the level of vaccination in a given workplace. Employees have consistently indicated that their willingness to return is much higher where everyone is vaccinated
Still, the divide doesn't only apply to existing employees. It will be felt in recruitment as well, with an employer's willingness to provide flexible arrangements becoming even more important to attracting talent.
Speaking as a career counselor about recruitment, I see another emerging effect in the form of employers' attitudes toward vaccination. Vaccination rates in general vary worldwide, and that variability also applies to employers' willingness to require that their employees get a vaccine. According to that same Ramstad research, most employers around the globe aren't insisting on vaccination, and only a quarter of workers are subject to a vaccine requirement.
That number is dramatically reversed when it comes to employee attitudes, with 75 percent of those surveyed saying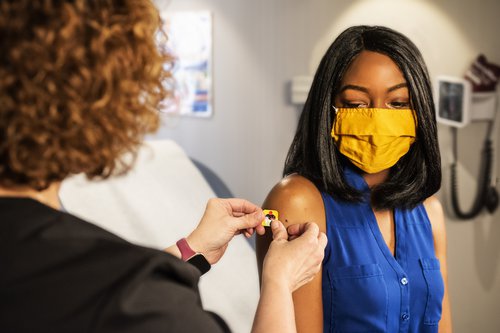 they'd get the shot if it was a job requirement, and more than half believing that they'd have more job opportunities once vaccinated.
I expect the vaccination question to join workplace flexibility as a top-of-mind issue for job seekers. Candidates will, perhaps for the first time, be making safety an important part of their criteria for what makes an offer attractive.
An organization that has taken active steps to get its people vaccinated is going to be an appealing place to work. If nothing else, it signals an employer who is attuned to the well-being of their staff, a quality that makes for a kind of bare-minimum requirement for attracting the best and brightest.
And we are beginning to see signs that employees, both present and future, are more than spectators to the vaccine rollout. They're taking an active interest in whether organizations are themselves taking action to put the pandemic behind us.
***
If you need assistance finding your place in the new work landscape, we offer a variety of packages that will help you find your next great employer.