Considering Consulting with a Bay Area Job Search Expert?
Unless you have a personal connection to a wish-granting genie, the best job search strategy doesn't work well as a spur-of-the-moment undertaking. If for some reason you're wishing for career help and not for pots of gold and superpowers, a job search takes preparation. 
If you want to put yourself in the best position to succeed, you can start your preparation by asking yourself these four questions.
Why am I searching for a job, and why now?
Sometimes, the answer is obvious. You're fresh out of college, or you've just been laid off, and the answer is "because I have no choice." 

On the other hand, you may have a choice, and you're looking for any number of reasons. You're stuck in a rut at your current job. Your workplace is toxic. You want to be better paid. You want a more fulfilling job. You want a whole new career. 
This is the first question for a reason: Its answer will determine what the right answers are to all the questions that follow. 
It's also a question that doesn't need to be answered with action. It requires nothing more than an honest and thorough evaluation of what's truly motivating you to venture into the job market. 
It's entirely possible that you'll decide that searching for a new job is not what's called for right now. Perhaps your current job can be changed enough – by way of a raise or by new or different responsibilities – to give you what you need. A clear-eyed look at your situation has to be the starting point and should guide you in determining whether you need to further consider seeking out job search advice and strategies.
What do I want?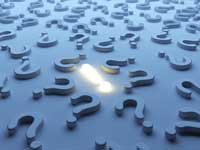 Whether you're looking at your first job or your next job, what are you really looking for? What are your goals? What factors are important to you in your career and in your life? Your priorities can change depending on the stage of your career, your age and your field, so they're worth reevaluating from time to time in any event. But that reevaluation is practically mandatory in advance of a job search. 

Make a list of what matters. Money? Advancement? Increased responsibility? Work-life balance? Educational opportunities? A congenial workplace? There are a thousand possible priorities, big and small, and different for each of us. 
Go into the job search knowing what matters so that you can direct your energies at meeting your real, specific, personal priorities.
What's my value?
Even if it's still a matter of looking within, it's now time to ask about the other side of the job search equation. Instead of asking what your job can do for you, ask what you bring to the table. What unique selling proposition do you offer an employer? And put yourself in the employer's shoes. Faced with a candidate, what would that employer be looking for? What would make a given candidate stand out?
Perhaps you'll find that your value is readily apparent and that you've made it easy for a prospective employer to see it, but that's not necessarily the case for everyone. To begin with, you may find that there's work to be done to make you the best possible candidate and that it's work worth doing before you actually launch your job search. 
Would obtaining an additional certification boost your value? Would some new responsibilities at your current job make you more appealing down the road? Sometimes, it's worth postponing the search when you're getting all your proverbial ducks in a row.
Is that value readily obvious?
If, on the other hand, you know the value is there, it may still fail to come across when you present yourself as a candidate. The blame could lie with your resume or your interviewing style. There could even be a mismatch between your real value and the companies you're targeting in your search. 

All those shortcomings can be repaired and improved, but you must do the work before you launch yourself into the market. Get job search strategy help if you need it. After all, for all your value, the complexities of the job search – and they are many – are not part of your normal expertise. But do what you need to do to put your best self out there from the beginning. You don't necessarily get a second chance.
These are questions posed in broad strokes. You'll need to drill down and get specific in order to make a job search succeed, but, like a general preparing for battle, it's invaluable to have a strategic foundation before committing to tactical details.
Don't Go It Alone, Find a Bay Area Job Search Expert
Job search experts in the Bay Area can assist you with resume writing services, preparing a cover letter,  career coaching, salary negotiation, job interview preparation and every step in the process of making a career change or seeking out a new job in the San Francisco bay area. Experience counts, and Shimmering Careers has the experience and insights you need to help you find your next job.