I recently shared a bevy of tips about making your resume remote-friendly by adapting it to a new world of fully remote or hybrid workplaces. Those workplace arrangements were once the exception; now they're more or less the rule.
Of course, your resume is not the end of the job-search story. No one gets hired without an interview, even for a remote job, and today's interviewers need to be convinced that you can hit the ground running – or at least at a moderate jog – in the remote environment of the lingering pandemic. Even if remote work is new to you, those interviewers need to be convinced that you're up to that particular challenge.
There's a lot to be said about doing all that convincing, but before we move on to concrete suggestions, bear in mind an important starting point: These days, your interview itself, no matter what the job, is likely to be remote. An in-person meeting won't happen unless it's the last link in a multi-interview chain.
So, given that it's almost inevitable that you'll be interviewed remotely, there's a lot you can do to ensure that the experience is a resounding success.
First, you need to manage the remote aspect of the interview well. The days when you could be forgiven for stumbling through the interview because it's remote and most of us are new to it are over. We've had a year and a half to get comfortable with the remote world. If you're not comfortable by now, employers are going to wonder if you'll ever get comfortable – not the impression you want to convey for your potential to do well as a remote employee.
One thing this means is that your remote setup, at home or wherever that is, has to be functional and reasonably professional. You cannot set up – meaning acquire, install, and learn – a remote installation in a day. Get things together in plenty of time.
Practice using what you have. Practice is always a crucial part of interview prep. Here, you have the usual practice that covers your substantive answers to interview questions. Don't neglect that! But there's another layer, what you might call the procedural layer, that involves getting to know your equipment and getting comfortable with its functionality. If an interviewer asks you to turn up your microphone, for example, make sure that you can "just do it," and that it's not an occasion for hunting for the right button to click.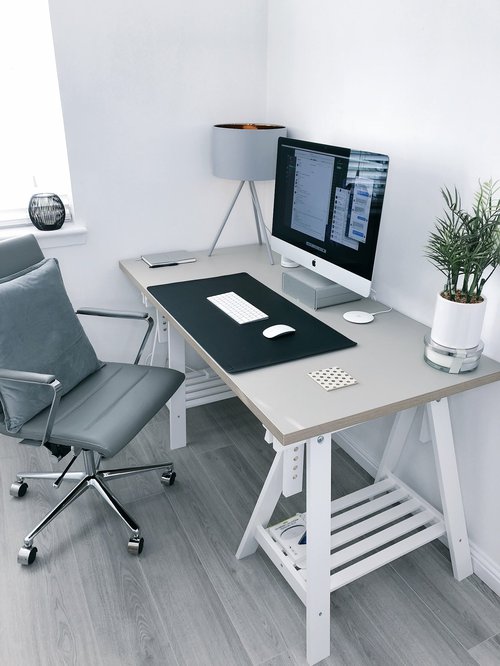 Be prepared to talk a bit about your home setup. It can underline the fact that you're ready, willing, and very able to take on a remote or hybrid job even if you haven't gone that route before. You might be able to take this approach to convincing your company that working from home is actually good for the company.
And now for some tips within these tips, the ones that have always applied to remote interviews, even when they were a departure from the usual routine:

Banish kids and pets or any other distraction that might interrupt – roommates, for example.
Be aware of/careful with backgrounds when you're on video.
Pay some attention to lighting. It makes a big difference in keeping you from looking like an extra from "The Walking Dead" – or, in fact, in helping you like said extra if that's the job you're interviewing for.
Dress the part, and not just from the waist up. It can be hard for some of us to believe that something so seemingly arbitrary can have a profound effect on our mentalities, but it really does matter.
I've previously offered tips about video interviews and phone interviews, those precursors to remote at a time when even video and phone were very much exceptions to the interview rules. Those tips are still relevant. Interviews, whatever the medium, are still interviews.
And, of course, we've talked a lot about interviews in general and about the peculiarities of interviews for specific fields. That, too, is still as relevant as ever, because nothing really changes in the substance of the interview simply because it's remote. Again, interviews are still interviews.
But a lot of this new interview medium is indeed new even if the substance remains the same, so consider this post an introduction and a place to start.
If you need more help, I'm always ready to lend a hand, remote or not.