How to prepare for the phone interview

"Remember to breathe. It is after all, the secret of life."
- Gregory Maguire
Companies are making the video job interview commonplace. This trend was predictable even before the recent pandemic since technology and design was becoming more suitable for video conferencing. Today, with Zoom and other applications - and because of the pandemic - the use of video has accelerated. You must be prepared for the video interview. I've written about that topic elsewhere on this blog. It is important. But keep in mind that you may still have an initial early-stage interview on the phone. Whether the technology is phone or video, you need to be prepared.
In the recent past, a phone interview was a formality. It meant that your paperwork had passed the first round of evaluation and that you were likely to move on to the "real" interview as long as you could carry on a normal conversation with another human being.
Today, however, times have changed. The phone interview can be a preliminary, or it can constitute a meaningful hurdle in the application process.


The Varieties of Phone Interviews
The screening interview
For many years, screening was the phone interview's sole purpose, and that purpose is still in play. In a screening interview, you are not speaking to someone who can hire you. You are not necessarily speaking to someone employed by the company doing the hiring. This is a person with a fat stack of resumes and a phone, whose goal is to whittle that stack down to a manageable level. Typically, the interview is brief. In some interviews, your general phone voice and manner are assessed. In others, the interviewer may be looking for the "right" answers to specific questions. In either case, this is not a time to discuss salary or other job specifics that are the province of someone higher in the chain of command.
The group interview
Phone interviews are often conducted by more than one interviewer at a time. Addressing yourself to a group of strangers can get confusing. Silly as it may seem, you can clarify things by paying attention when introductions are made and drawing a picture of the people at a virtual table, complete with smiley faces or stick figures if the mood strikes.
Write down the people's names and put yourself at the table. You can then address individual interviewers as things proceed. Since this is invariably a speakerphone experience, one disadvantage of a group interview is the potential that you will have difficulty hearing your interviewers. Always ask for clarification if something is unclear.
The ambush interview
In an ambush situation, your interview is not scheduled for a specific time. Your phone will ring, and you will have no warning that you are about to be interviewed. This puts you at a definite disadvantage, especially in light of all the things you can do to help yourself if you have some notice.
The best course of action is deferral. Politely explain that you are ever so happy to get the call, impressed with the company, and interested in the job, but you cannot talk now. You're heading into a meeting, but you would be delighted to speak about the job tomorrow.
The goal here is to secure a follow-up interview at a definite time. If there is any hesitation on the interviewer's part, volunteer some times that would work for you. Get the person's name and number. Offer to call or to be sitting by the phone at a designated time—just try to secure a commitment of a follow-up call in the near future. Don't forget to breathe.


Phone Interview Basics
At one time, it was a given that the person on the other end of the phone was not in a position to hire you. It was a preliminary contact. That person could cross you off the list of candidates, but there was no chance that a job was in the offing during the phone interview. In the old days, nothing would happen without a personal appearance.
That is still true in many cases. Companies still do screening interviews in a variety of ways, but it is no longer a given that a phone interview is inconsequential. The job market, like so many markets, has gone global. Decisions can be made at long distance. The phone interview may turn out to be the final interview. It may be a preliminary interview that will be followed by yet another phone interview. There is simply no way to tell.
In other words, don't be lulled into thinking that the phone interview is a formality and you will inevitably be sitting in a room with your "real" interviewer. This may be as real as it gets.
Prepare just as you would for any interview. Expect the usual round of questions: "Tell me about yourself." "What are your strengths and weaknesses?" "Where do you see yourself in five years?" Rehearse your answers.
Emphasize your skills and accomplishments. Relate them to the company and its mission. Show the interviewer that you have done your homework. Be yourself. Be alert. Don't forget to breathe.
Be sure you have some questions ready for your interviewer. Make them open-ended. Use them to show your familiarity with the company and the industry, and to demonstrate sincere interest and enthusiasm.
So far, then, it's an interview like any other, but phone interviews have some special features that set them apart.


Projecting the Right Image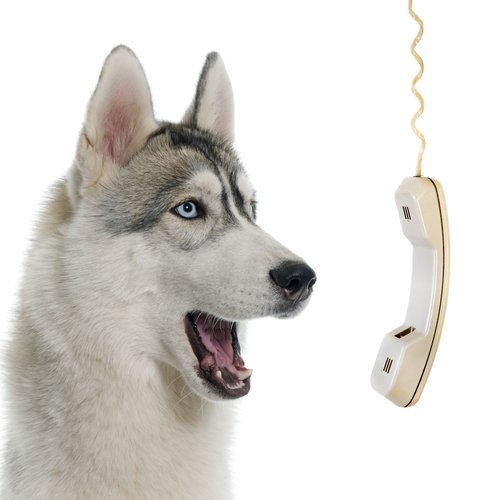 Even though you can't be seen, smile. Strangely enough, smiling makes a detectable difference over the phone.
Another invisible factor that can make a difference in the impression you make is your position. You sound different slumping on the couch than you do sitting at a desk or standing while you talk. Standing can help you to make an especially active and engaged impression.


Tools of the Phone Interview Trade
In case the interview turns out to be more than a brief screening, have some water close at hand. A full phone interview can easily last for 30 minutes, and, unless things go astray, you will be doing a lot of talking.
Decide on the kind of phone you want to use. If you have the option, a landline has some advantages, despite its archaic origins. Landline connections are solid, and their voice quality is almost always superior to even the best cell phone reception.
Silence is also the goal for all the other beeping and buzzing pieces of technology that surround most of us today. Turn it all off for the duration of the interview.
Distraction and noise can come from other sources, too. Children and pets are high on that list. Find a place where you can anticipate a modicum of privacy, and let people know that you are going into "do not disturb" mode when the call is expected.
A good number of phone interviews are conducted by more than one person at the employer's end, so you're likely to be on their speaker no matter what.
Your comfort is crucial. If you are uncomfortable standing during the call, take a seat, even if you sound a little better when you stand. Phone interviews can produce enough anxiety all by themselves, without you making choices that are simply wrong for you personally.


Handy Materials
One of the great advantages of a phone interview is that it is an open-book test. You are allowed to have helpful materials close at hand.
Foremost among those materials is a copy of your resume. Interviewers will inevitably refer to it. If you submitted other materials with your application, have copies of those handy as well. If your resume refers to a particular document—whether a presentation, a study, or a portfolio—you may want to refer to it if the subject arises.
In second place, running very closely behind that copy of your resume, is a cheat sheet for the occasion. Some questions always get asked, and an outline of your answers can be very helpful. Don't make it so detailed that you end up reading it aloud, or so dense that it becomes a source of confusion. Keep it simple: bullet points and not paragraphs.
Three bullet points per answer should provide enough ammunition for the three utterly predictable interview questions: your strengths, your weaknesses, and, although it may come in one of several other guises, the chance to "tell us about yourself." In your outline, focus on specifics, describe particular situations, and try to connect your answers to the needs of the employer on the other end of the line.
A similar cheat sheet is enormously useful when your interviewer asks if you have questions. Drawing a blank here is simply not an option. It immediately sends a message: you are just not interested. Asking questions that relate to the wonderful things the company can do for you is almost as bad. Your questions need to focus on the things you can do for the company—not, for example, how soon you can head off on vacation.

During the Interview
That covers the preliminaries. You have a quiet, private spot. Your phone is charged. Your resume and notes are handy. There's a glass of water at your elbow and a mission statement staring you in the face.
Once the phone rings, is there anything else to remember?
Above all else, be conscious of the interview's tone. Some people are so used to phone conversations with their friends that they lapse into a sort of offhand informality whenever they're on the phone.
The best interview is more conversation than interrogation, but it is still a relatively formal interaction. Courtesy matters throughout. Calling your interviewer by name when appropriate is an indication that you are engaged in the process. Your overall demeanor should be that of someone who is alert, thoughtful, and interested in the job, the company, and the industry. Reinforce that impression whenever possible.
If a question takes you by surprise, or if it is complicated enough to require a bit of thought, ask for a moment. When you are in the same room, your interviewer knows that you have heard the question and sees you giving it the consideration it undoubtedly deserves. On the phone, this pause translates into dead air. Avoid giving the impression that you have abandoned the call or fainted dead away. There is nothing wrong with needing a moment to deliberate. Even hiring managers sometimes need time to collect their thoughts.
Remember Yoko Ono's advice to job seekers everywhere: "When people ask me what the most important thing is in life, I answer: 'Just breathe.'"
I can help prepare you for all interviews, phone or otherwise, with my Interview Coaching services, as well as provide you with the resume and cover letter to help land the interview.