Recent College Graduates: 

Develop a Job Search Strategy

How can you launch your job search after getting your degree? It's hard when you continue to hear reports of how tough a new grad job search can be. Despite stagnant wage growth in the United States, there's actually some good news for the class of 2017. 

Entry-level jobs are paying more on average for new grads than they ever have, 3 percent more than they paid last year and 14 percent more than they paid a decade ago.

That doesn't mean that employers are beating the bushes looking for warm bodies so they can pay them the highest wages ever. To get the job you want at the pay you want, the new grad job search strategy still needs lots of attention. Here's how new grads can jump-start that search.
Learn About the Job Search Process
Ready or not, it's time to resume your studies, at least briefly, but this time the subject is immensely practical. You need to study the job market and learn how hiring gets done. It's a market with its own methods and customs, covering everything from where the jobs actually are to what job interview preparation will make for a good interview. Start your search by getting the lay of the land.
Prepare to do some work.
Many job seekers have said that the job search itself is the hardest job they've ever had. There's a lot to be done. You need to find openings in your field, craft a professional resume that speaks for you, master the art of the cover letter, practice your job interview questions and answers strategy and more. 
And you need to do all this in an environment that sometimes offers little support and plenty of rejection. Be prepared to put in the work and to keep going forward if the going gets tough.
Keep your network alive.
The people you know may well turn out to be your best resource. Someone tells you of an opening that's right for you. Someone else knows the hiring manager at an interesting company. 
Maintain connections with your classmates, your teachers, people you worked for and with during college and people involved in any college internships. They are the single best source of information and introductions.
Keep your network growing.
Don't be satisfied with the people you already know. The wider you can spread your net, the better the chance of something good happening. Through networking events, conferences or informational interviews – a topic worth investigating if it's something new to you – make all the connections you can.
Perfect your elevator pitch.
Suppose your networking is successful and you meet someone who might just be willing to offer some help. "Tell me about yourself," she says. "What are you looking for in your career?" This is not the time for indistinct mumbling. 
You need a good, articulate, succinct statement of where you've been and where you want to go. That's an elevator pitch —a short, sweet 30-second statement that tells your story. If all it does is persuade your listener to ask another question, it's done its job. If you don't have something you can trot out at the drop of a question, it's a lost opportunity.
LinkedIn awaits.
Love it or hate it, LinkedIn for the new grad job search cannot be ignored. Consider it a baked-in part of the contemporary job search that needs your attention from the start. A LinkedIn profile writer can provide a valuable service if you're unfamiliar with the network or unsure of how to present yourself on this professional networking website.
Make your profile as good as it can be. Employers will always – always! – make LinkedIn one of their first stops when evaluating a candidate. Note, too, that LinkedIn provides some networking opportunities that can be worthwhile if handled well.

Don't forget other social media.
Before you even dip a toe into the job market, take some time to "sanitize" your other social media accounts. Employers will start with LinkedIn, but they won't stop there. If your Facebook account tells the story of a party animal who's all sex, drugs and rock and roll, edit that story so that it tells the tale of a mature professional who's ready for the real world.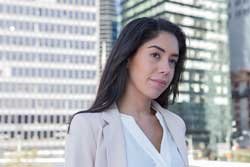 Look through employers' eyes.
It's very easy to approach the new grad job search from the perspective of your own interests. What do you want to do? Where do you want to work? What's important in your career? But look at it differently. 
One of the best lessons you can learn is that someone who's looking for a job can't make those things the primary focus. Instead, look through the eyes of a prospective employer, someone asking what value you can bring to his company. If you can adopt that perspective, it will go a long way toward crafting a great resume, a great cover letter and all the rest.

Don't expect that copy-paste will do the trick.
If you were hoping to send out 100 resumes to 100 different employers, with every resume the same, there's a better, more effective way. Your new grad professional resume needs to be tailored to the recipient – again, a matter of looking at things through employers' eyes. How to write a resume will depend heavily upon the company, field and position for which you are applying. 

It's a lot more work, but it stands a much better chance of bearing fruit. We did warn you that there was work to do, and here's one place where it's truly worth doing. 

Don't let a long Bay Area job search set you back.
Some fields are hot. Others are not. If your search is taking longer than you'd hoped, don't despair, but don't let that time go to waste. If there's some continuing education that would benefit you, use your free time to take advantage of that opportunity. Additionally seeking career coaching or counseling may provide helpful guidance and perspective.

Learn a new skill, or volunteer with an organization that means something to you. From the job-search perspective, the idea is to show that you're engaged with the world, that you continue to be committed to your field or, more simply, committed to being an active participant in society. 
Whatever you do, it will make for a better answer to the question of what you've done since graduation than "nothing at all."