What is the best time to say thank you for a job interview?You may be surprised.
Of course, you conclude a job interview by thanking the interviewer for their time and interest. And you also know the importance of following up quickly with a thank you email or snail mail note to that person.
But how about something different? Would you consider thanking your interviewer at the start of the interview, before you have answered a single question? It might catch your interviewer off guard, and it might feel a little awkward for you, but, if handled correctly, this gesture could make you stand out in a positive and memorable way from other job applicants.
Sincerity is of the utmost importance here. If you come across as phony, you're better off saying nothing. It's essential that you mean what you say and say what you mean, without overdoing it. If you don't feel this thank-you, then you probably shouldn't say it.
You might say it if you truly appreciate the opportunity of the interview and recognize its importance to you. Rather than feeling entitled to an interview, you are demonstrating appreciation for it.
So how might this play out?
Frame your opening thank you in terms of how much you value the opportunity to learn more about the job and to discuss your qualifications with the interviewer in person. Mention how interested you are in the job opening and how it fits in with your career goals. Say that you're looking forward to your impending discussion.
This doesn't have to be your Gettysburg Address: nothing too deep or profound need be said. It's just a way to kick off your interview on a positive note that you'll hope to extend into the interview itself.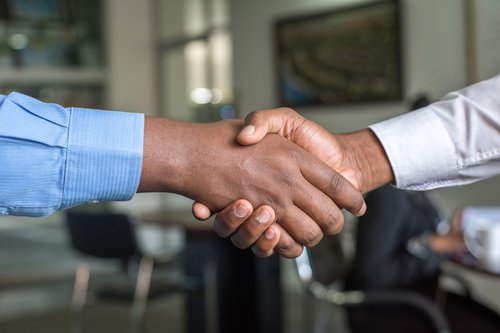 Here's an example:
"Before we get started, I just wanted to thank you for this opportunity to interview with you today.Thank you for your time and for having me in. I really appreciate it."
Short, sincere, positive, appreciative. That's all you need to do to get a big return (a good initial impression of you) from an absolutely small investment.
Try this on your next interview and see where it takes you. It could be just the ice breaker you need to help you ace the interview and get the offer. But make sure you mean it. And, don't forget the thank-you note.
****
Preparing talented professionals for interview success is one of our specialties at Shimmering Careers. We're here to help you with your job search and career planning. We look forward to hearing from, and helping, you!