Not every interview in your job search is a job interview. Consider the informational interview.
An informational interview is a chance to meet briefly with someone in your field and talk about that person's company, her career, and the industry as a whole. It's as simple as that. It's also a crucial facet of a best practice job search.
Unlike a job interview, the informational interview lacks a predetermined structure. In most job interviews, you can expect to be asked a series of questions, many of them predictable.
Compared to a job interview, an informational interview is a formless void, but that's not a bad thing—it's just like any social interaction. When you're meeting some friends for a couple of drinks after work, you don't have to arrive with a prepared conversational agenda. It's wide open. You set the agenda.
That freedom can leave people feeling even more at sea than they would if faced with an actual job interview. The idea that you're free to talk about anything puts a lot of responsibility on your shoulders. Unlike a job interview, where a bad interviewer is quite capable of sabotaging what could have been a good experience, you're the one who determines if the informational interview will be a success.
When you walk into an informational interview, you should know a good deal about three things:
1. The Industry: You should know something about the industry from the very start.
2. The Company: You should also already know something about your contact's company, if only because it ended up on your list of desirable employers.
3. Your Contact: There are three sources of information you can safely use to learn more about your contact. First, there's the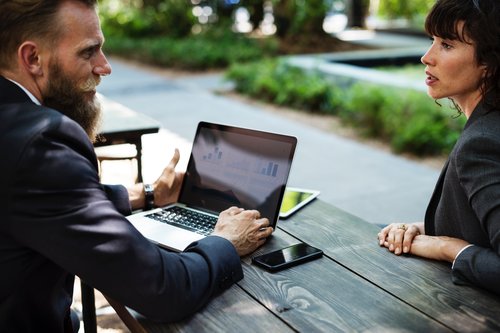 company website and any biographical information published there. Second, there's the interview, article, or posting that led you to this contact to begin with, if that was the case. Third, there's LinkedIn. No one will be shocked to learn that you took the time to consult a professional network in preparation for an informational interview.
You can and should engage in some small talk. It breaks the ice. Here are some other questions you can consider asking:
What is the outlook for this industry or profession? What changes have you seen over the course of your career? 

What specialized education or training is required? How has that changed? 

What skills or talents have you found most useful? How has that changed? How do you see that changing in the future? 

Are there possibilities for advancement within this position? What qualities have been most important in that respect? 

Can you describe your average workday and your key job responsibilities? 

What are the best and worst things about this position today? 
Is there a team effort or approach to your work? 
In what ways does this job affect your life outside of work?
There is only one absolute taboo: Don't ask for a job. That's not why you are here. When you asked for the interview, you entered into a sort of contract as to its terms. Keep your side of the bargain and you'll stay on friendly terms with your contact. If you break your promise, that is not likely to be forgotten. 
On the other hand, do not hesitate to ask about things that are specific to your employment situation. It's fair game to ask how your existing skills and education fit into the field and how you can improve your prospects in the future.